3 Reasons Why A Broken Garage Door Is A Major Security Risk
April 28, 2016
Our Tips For Buying A Garage Door
Buying a garage door - A garage door isn't a every day purchase, so the process might be overwhelming at first. To assist with the ups and downs of this process, we have put together this blog post based on our over 20 year experience in the garage door industry. Hopefully this blog post will be informative to the new garage door buyer.
1. What to expect to pay for the more popular garage door styles?
Every home is unique in its own way, so why not compliment it with the perfect garage door. 
"Will the classic look be the one for you or are you looking for something more contemporary, or maybe even rustic? We have all types of garage doors for sale"
says Thinus De Jager, owner of
Rightfit Garage Doors
. "Assessing your house's style will help you with find the garage door that best suits your needs."
Aluminum garage doors:
The most common features for the
aluminium garage door
is that it is
Rust-Proof
and
Lightwieght
. You can always try and stand out from the rest by replacing the solid panels with glass. The average cost for a single door: R15,000 and for a double R20,500.
Aluzinc garage doors:
Aluzinc garage doors
are also
Lightweight
and
Rust-Proof
due to the combination of Aluminium and Zinc, they are however cheaper than a fully aluminium garage door. The average cost for a single door: R8000 and for a double R12,000.
Wooden garage doors:
There simply is no substitute for the warm look of a
wooden garage door
. It's typically made from top quality wood and offers some great flexibility for
custom carvings
and
design
. Wooden doors will require more maintenance based on climate and exposure. The average cost for a single door: R10,000 and for a double R17,000.
It should be noted that in most cases these prices will include installation and automation
2. Should my garage door be insulated?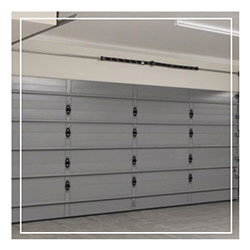 There are not very many garage doors that are heated, but your garage door will still impacts your houses energy efficiency. The good news is that insulation technologies for garage doors have significantly advanced over the last 5 to 10 years. Today's doors provide a tight seal against the exterior side of the building to keep out the elements.
Should your garage be attached to the house, it will be to your advantage to purchase an insulated door, mainly if there is a room above the garage. The insulation will help reduce both noise and heat/cold. Also, taking the direction your door is facing into consideration, whether it is direct sun all day or getting thrashed by the wind, an insulated door will help improve the temperature inside.
3. Garage door safety
Garage door safety is incredibly important due to the door its self being the biggest moving object in your home. The other dangerous component to your garage door will be the spring. The spring is basically the force behind raising the door, which means that it under goes immense tension. When a spring brakes it will be best to call out a professional team to help with your
garage door repairs
.
4. A few other things to know before buying a garage door?
For the new garage door owner be sure to ask these questions:
• Are the garage door remotes included in the price
• Does the price of the garage door includes installation and motor. It should though. "A garage door installation is as important as the door its self," Thinus says, and requests that homeowners to do their research before hiring a company. The cheaper products require far more maintenance and headache
• Can they customise the door size and style for you.
We hope you enjoyed this article on buying a garage door | Visit Right Fit Garage Doors for more details
[elfsight_social_share_buttons id="1"]